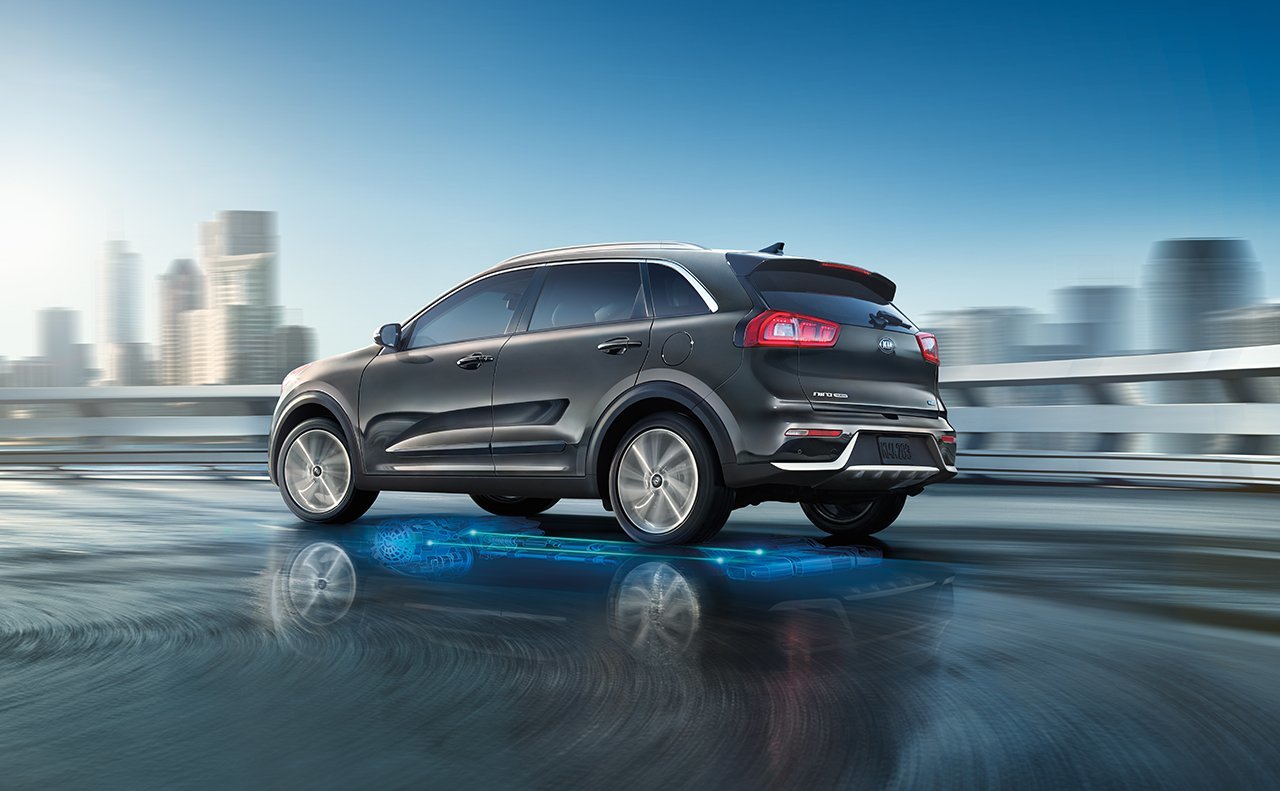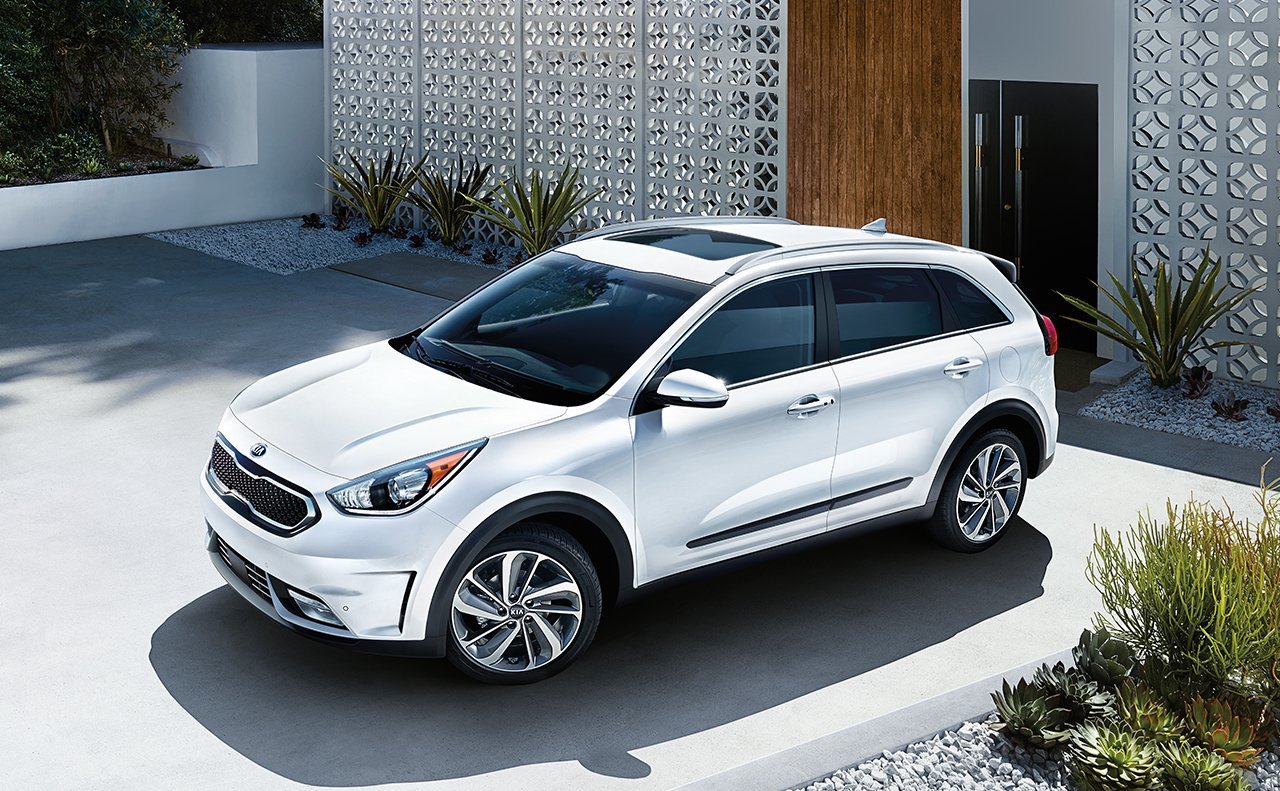 The 2017 Kia Niro sets Guinness World Record® of 76.6 mpg driving coast-to-coast from Los Angeles to New York City!
This 3715.4 mile trip takes only 4.1 tanks of gas which is the lowest fuel consumption driving coast-to-coast (hybrid car). The Niro EX was driven from city hall to city hall and was not altered in any way for the attempt. "We're extremely pleased with the Niro's record-breaking performance," said Orth Hedrick, vice president, product planning KMA. "We set out to build a vehicle that offers real-world utility, great looks and fantastic mileage, and setting the Guinness World Record® title confirms our achievement."

The all-new 2017 Kia Niro offers an uncompromising design coupled with exceptional utility and hybrid efficiency. LaFontaine Kia is here to help you learn more about this first of its kind vehicle.
The first of its kind.
The 2017 Kia Niro is a new approach to what a hybrid crossover can be. It achieves an EPA-est. 50 mpg combined and a near-600-mile range. And it features a high-efficiency 1.6L GDI engine and a smooth-transitioning dual-clutch automatic transmission that deliver pure fun behind the wheel.
The best of both worlds.
The Niro is the no-compromise vehicle. Thoughtfully designed to combine the benefits of the crossover and hybrid worlds. Like the forward-looking engineering and optimized fuel economy of a hybrid. And the versatile design and practicality of a crossover. It's the high-style, high-MPG adventure vehicle made for the no-compromise driver.

Hybrid
Unlike hybrids with continuous variable transmissions (CTV), the Niro comes with a highly responsive, smooth-shifting dual-clutch automatic transmission (DCT) that gives the Niro a fun-to-drive feel missing from the competition. Plus, it offers ample inerior space you wouldn't expect from a hybrid.
Crossover
Thanks to its hybrid-optimizing powertrain, the Niro achieves superior fuel economy and range for its segment. And its refined exterior styling, with sculpted lines and an aerodynamic shape, sets the Niro apart from the rest.
Explore the Niro App
The Niro App lets you explore Kia's first-ever hybrid crossover up close. Discover 360-degree views. Watch virtual reality movies. Even explore color and wheel options with customization tools. The best part is, you do it all right from your iPad®
The crossover that speaks to you.
Have a question about Niro? Get your answers straight from NiroBot, Kia's brand-new chatbot for Facebook Messenger. NiroBot offers real-time responses complete with full-screen photo galleries, dealer locator information, and multimedia stories. Go ahead, ask away.
Well-connected.
You know you're in no ordinary crossover when you wirelessly charge your smartphone while it plays your favorite song, on Harman/Kardon® Premium Sound System. And those are just a few of the high-tech innovations to keep you charged and connected.
Command more than the road.
With UVO, Kia's free infotainment system, you can send and receive texts, access your favorite apps, and connect to your smartphone via Apple CarPlay™ or Android Auto™ - all through the Niro's built-in 7" or 8" color touchscreen display. Plus, voice-activated technology gives you ultimate convenience with both hands on the wheel.
Music in motion.
Every adventure should have its own rich soundscape. That's why the Harman/Kardon® Premium Sound System delivers crisp, custom-tuned audio. And it features Clari-Fi™ technology that intelligently restores compressed tracks for dramatically clear music as its meant to be heard.
Power trip.
Recharge your smartphone with the ingenuous power of wireless charging. And with multiple ways to power your devices throughout the cabin, the Niro provides convenient charging no matter where you sit.
Make a bold entrance.
The wide stance. The sleek, dark trim. And, face to face, available High-Intensity Discharge (HID) projector beam headlights and LED positioning lamps for crisp illumination. From the stylish wheels to the rear spoiler, the Niro mates upscale style with athletic appeal, pushing the limits of what a hybrid can be.
Clean lines, cleaner air.
The Niro is smart aerodynamic design - from front to back, from top all the way to bottom. Meticulously sculpted to minimize drag, the Niro's shape helps improve fuel efficiency.
Ahead of the curve.
Cross over to a new kind of hybrid. From the fuel-stretching Parallel Hybrid System and regenerative braking system, to the impressively efficeint dual-clutch transmission, the 2017 Niro is the perfect paring of optimized fuel economy and dynamic driving performance.
Unparalleled performance.
At the core of Niro's innovative powertrain is Kia's Full Parallel Hybrid System. It combines the pure power of our hybrid-optimized engine with a highly efficient, lightweight electric motor and a powerful lithium-ion polymer battery. The result is a smooth, reliable performance that delivers outstanding hybrid efficiency.
Changing the rules of hybrid.
Meet the automatic transmission that raises the bar for how a hybrid should perform. Where many hybrids use a continuously variable transmission (CVT), the Niro features a highly responsive, 6-speed dual-clutch automatic transmission (DCT) that shifts gears smoothly and quickly. The result is a crisp, exhilarating drive.
Renewed energy.
Any time you slow down, the regenerative braking system charges Niro up. During deceleration, the electric traction motor captures the kinetic energy to recharge the battery. It's one of the many energy-smart technologies that help maximize fuel economy.